The joy of the festive period can often be followed by seasonal depression, more commonly known as the 'January blues'.

But as Christmas disrupts our routines, it also disrupts our pets too, meaning that when it's time to get back to the reality of work and school, our dogs moods can be affected as they readjust back to everyday life. That's right, dogs can experience the January blues too!
YuMOVE Calming Care One-A-Day
A yummy chew for dogs who are stressed and nervous
One tasty treat a day
Helps reduce stress in dogs
Supports calm behaviour
Find Out More
As integral parts of our families, we care about our pet's well-being just as much as our own. In this guide we explain some key changes in behaviour which can indicate a change in your pet's mood. We also show you what you can do to help put a spring back in their step...
Behavioural changes to spot
Does your pet seem lethargic?
Is your dog sleeping more than usual? Have they given up on walkies? This, plus any sign of reluctance to get up, could not only be a sign of doggy depression but can also be a sign of stiff joints.
Is your dog becoming withdrawn?
Is your pet as social as they used to be? If you've noticed that your dog isolating themselves and sitting further away from you than usual, then this could mean that something is wrong. Not seeking as much attention and becoming withdrawn, could be an indicator of your dog experiencing a low mood and/or the January blues.
Have they become more irritable?
How is their temperament? Is your pooch snappier than usual? A short temper, barking more often, and chewing the furniture could all be signs that they are not happy. This, as well as defecating indoors, could all point towards a low mood.
Like humans, some dogs can suffer from depression. Although dogs do not have the same reasoning as humans, they too can experience low mood or bouts of depression. Doctor of Veterinary Medicine and animal behaviour specialist Bonnie Beaver has commented that "It's hard to know because we can't ask them, but in clinical practice, there are a few situations where that is the only explanation."** So although it is not common, it is possible. With dog depression symptoms typically mimicking human issues. 
So, what can you do to help?
Help to reassure your pet
Over the festive period, your pooch will have gotten used to having people around 24/7. By sticking to a schedule once you return to work or school, you can give your dog reassurance of when you will and won't be home and in turn boost their sense of security and confidence.
Ensure that your dog gets regular exercise
If your dog is experiencing stiff joints and their energy levels seem to be slowing down, then light exercise could be the key to getting them moving again. Not only will a walk get them moving but experiencing different sights and smells outside could help to engage them, creating mental stimulation that could reduce lethargy and make them more social.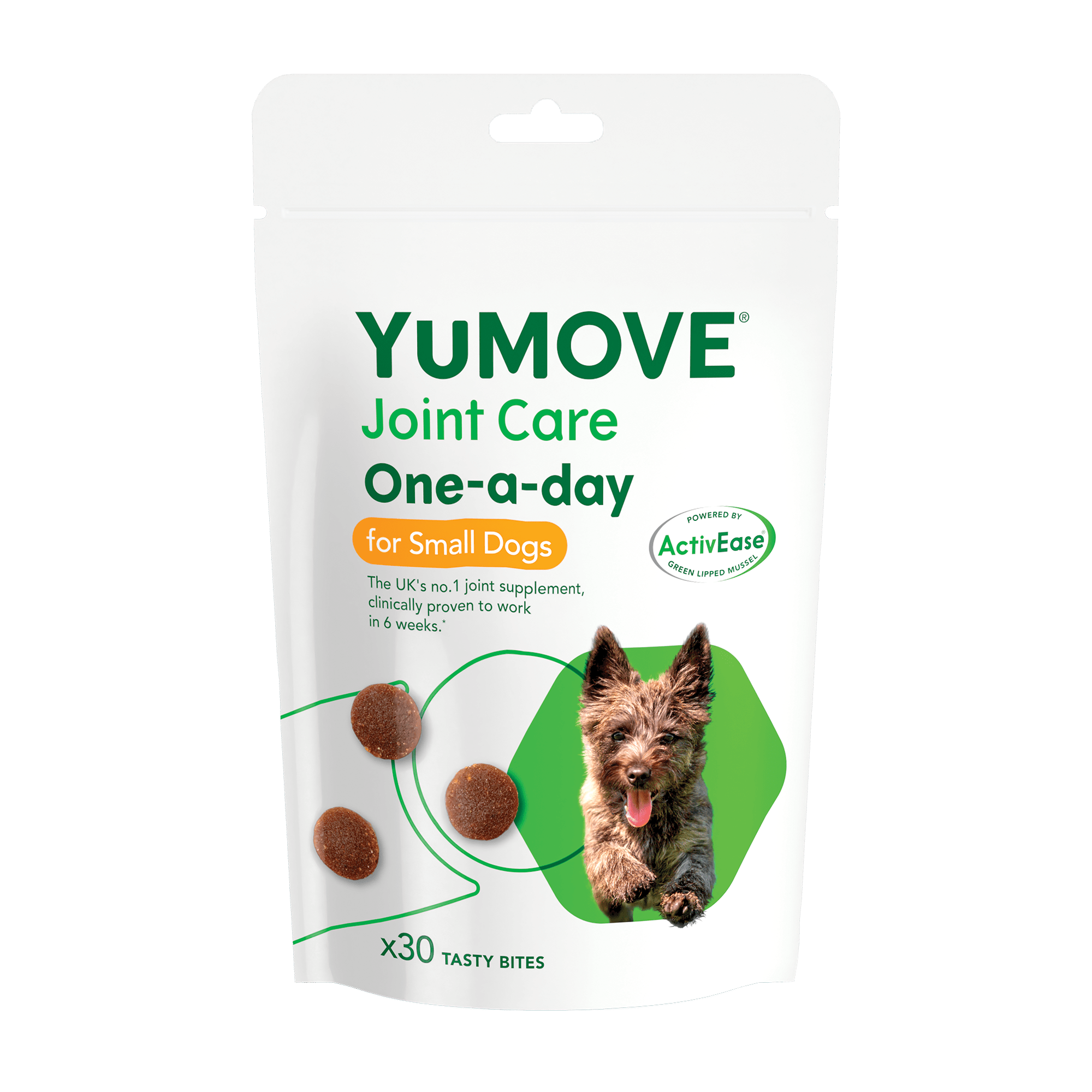 Joint Care One-A-Day
Tasty one-a-day chew
Clinically proven to make a difference in just 6 weeks*
Soothes stiff joints
Aids mobility
See product
Provide mental stimulation and social engagement
It is also important to engage your pet socially and mentally. A great way to engage your furry friend is to enrol them in doggy daycare or puppy training, to increase their social skills and keep their brains active. You can find reliable and local dog daycare and walking services here or check out Dogs Trust for local dog training. Distracting them from their doggy blues and improving their mood is key to helping them get back to normal, but if they are still down in the dumps, why not treat them to a new toy too? This could trigger excitement and reinstate the joyfulness of play time.
Try introducing supplements into their diet
With our natural supplements for dogs, you can help your pet through uneasy times and supporting them back to normal routines and more comfortable walks.
YuMOVE Joint Care is a completely natural dog joint supplement from Lintbells that is trusted across the world by thousands of pet owners and vets. Based on a unique formula using Green Lipped Mussel from New Zealand and high concentrations of Glucosamine, along with antioxidants and Hyaluronic Acid, YuMOVE helps to keep your pet running, jumping, playing and moving comfortably for as long as possible!
There are a range of YuMOVE Joint Care products available, for dogs of all ages and temperaments. By adding YuMOVE Joint Care to your dog's breakfast or giving it to them as a treat you can help develop their mobility in just six weeks*, as the formula helps to cushion and lubricate your dog's joints, helping them to find the energy to be a bouncing ball of fluff again.
To find out how other pet-owners have found our YuMOVE product range, join us on Facebook and Instagram to discover our community of like-minded and dedicated pet-lovers.
*Study conducted by Royal Veterinary College.
**Quoted from https://pets.webmd.com/