[UPDATED OCTOBER 2023]
There's so much fun to be had when it snows. Plus, it makes everything look utterly magical. But what about our feline friends? Do they like the snow, or would they much rather be lounging next to a warm fire? Read on to find out what cats really think about snow and discover our top tips to keep your cat safe when they're walking in a winter wonderland…
Do cats like snow?
You either love snow, or you hate it. And generally, cats tend to hate it. Traditionally, cats prefer cosy, dry places. This affinity for warmth can be traced all the way back to their large desert-dwelling ancestors.
Having said that, every cat is unique. Some have evolved to thrive in chilly climates, such as Maine Coons, Turkish Angoras, Scottish Folds and Siberian cats. And others are just obsessed with snow. You'll either find them trying to catch snowflakes with their paws or leaping through blankets of snow – basically, they're competing in their very own Winter Olympics.
10 ways to keep your cat safe in the snow
Cats can be prone to sickness and injury in below-freezing temperatures. Young kittens, elderly cats and those with long-term illnesses are particularly at risk of conditions such as hypothermia. Check out these helpful hints to keep your cat safe and warm when it's cold outside:
Create an outdoor retreat
If you have an outdoor cat, it's important to create a safe haven where they can hide away from the snow and ice. This could be a small wooden box or your garden shed. A cardboard box covered in plastic sheeting will also do the trick. Either way, make sure there's enough room for your cat to enter and exit. Place a blanket inside and a bowl of water nearby. This way, your cat can still enjoy being outside, but also have somewhere safe and cosy to relax in.
If this is your kitten's first winter – or just their first time seeing snow – consider accompanying them into the garden so you can keep an eye on them.
Our top tip: If you're letting your cat shelter in a shed or an outbuilding, keep the door wedged open so they don't become trapped inside.
Be careful in your car
Some cats have been known to get under the bonnet of cars. That's because cars are often a dry and warm place for your cat to curl up in. For safety, you should gently bang on the bonnet of your car before turning on the engine.
Speaking of cars, now's the perfect time to remind you how dangerous antifreeze is for cats. It contains toxins like ethylene glycol and methanol, which can be deadly. The worst part? It tastes extremely sweet and is irresistible to cats. But it can cause extreme damage to the liver and kidneys – even if only a small amount is ingested.
Protect their paws
After an adventure in the snow, it's important to properly clean your cat's paws, legs and tummy to prevent dampness and to warm them up. It's especially important to wipe down their paws. The ice and grit on the pavements and roads can really irritate their feet.
Plus, during winter, your cat's feet can become cracked and dry. The cold air, artificial heat from radiators, and snow and grit can all affect their feet. A paw balm for pets can help to keep their feet waterproof, moisturised and smooth.
Defrost the cat flap
In extreme weather, heavy snow and ice can stop your cat from exiting (or entering) your home. Regularly check your cat flaps to ensure your cat can get in and out. Clear away any snow or ice which would otherwise get in their way.
Keep them comfy
Us pet parents can handle colder temperatures better than our furry friends. That's because we're armed with tonnes of plush pyjamas and blankets to keep us warm. Plus, cats are tiny compared to us – so they feel the effects of the cold much more easily.
That's why warm and comfy bedding is the biggest must-have winter item. Always provide a bed that's big enough for your cat to fully stretch out in, but also cosy enough to curl up in. We recommend keeping their bed away from doors, windows or any place that's prone to draughts.
Don't let them get too warm
This one might sound counterintuitive. But cats are likely to spend a lot of time next to your radiator during winter. In fact, they love the warmth so much that they sometimes don't know when to stop and become at risk of overheating. Never let your cat sleep directly on the radiator and keep a close eye on them if they're spending too much time next to one.
Take extra care with their joints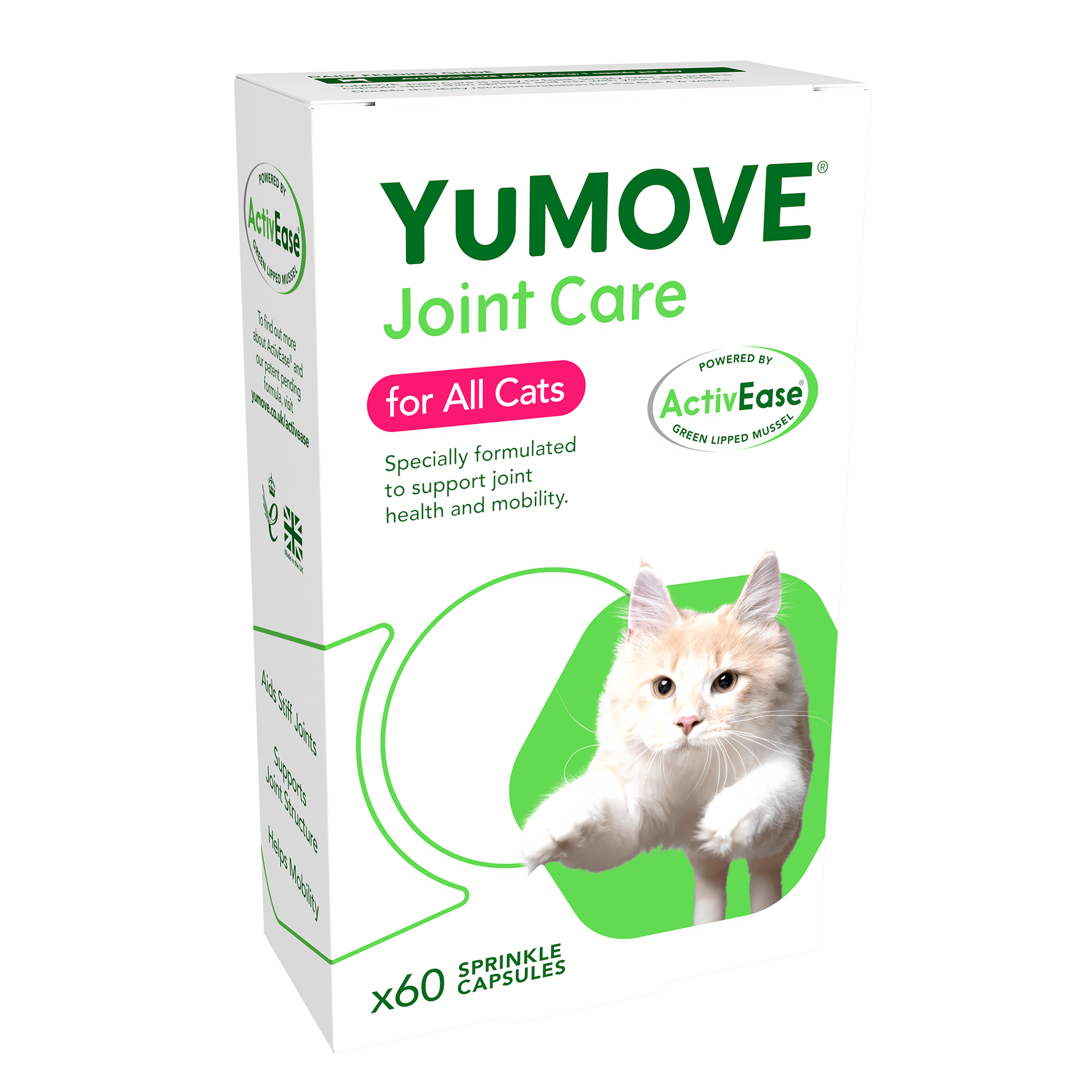 Joint Care for Cats
Triple-action formula soothes stiff joints, supports joint structure and mobility
The UK's no.1 vet-recommended joint supplement brand*
See product
If your cat is already suffering from stiff joints, the cold can make things worse. Provide plenty of places to rest. And if your cat is struggling to reach their favourite snoozing spot, try to provide plenty of extra routes. A cat ramp can reduce the amount your cat jumps and climbs, easing the strain on their joints.
At YuMOVE, we're dedicated to helping all cats live their best, most active lives. That's why we've created a supplement to help aid your cat's joints. YuMOVE Joint Care for All Cat contains high-quality ingredients – including our unique ActivEase® Green Lipped Mussel to help support your cat's stiff joints.
Keep them hydrated
We know how difficult it can be getting your cat to drink at the best of times. But it's especially important to provide enough water when it's cold outside. Make sure you're providing plenty of fresh water inside your home. And if your cat has access to an outdoor water source, check it regularly to make sure it hasn't frozen over.
Make sure they're microchipped
In winter, it's particularly vital to keep your cat's details up to date. Cats are more likely to go missing when it's cold and snowy outside. And this way, they can be easily traced back to you.
An ID tag engraved with their name and your phone number will also come in handy. Plus, you could try attaching a bell to your pet's collar (if there isn't one already). It helps you to keep track of their whereabouts. It also alerts other people, animals and cyclists of their presence. 
Reduce their time on the ground
Simply put, the best way to protect your cat when it snows is to reduce their exposure to it. Be prepared for your feline companion to spend more time indoors. If your cat normally does their business out in the wild, provide a litter tray inside.
Our top tip: Always make sure your cat has returned home at night. Sleeping outside in below freezing temperatures can cause serious harm.
How to tell if your cat is cold
Are you worried that your cat is cold this winter? Take a look at the below warning signs:
Shivering or shaking
Curling up into a tight ball with their tail wrapped around their body
Excessive meowing or whining
A change in behaviour (such as appearing anxious or uncomfortable)
Sleeping near heat sources – for instance, radiators or water pipes
Does your cat love playing in the snow? Post a picture on Instagram or Facebook and tag us so we can join in on the fun!