[Updated November 2023]
The New Year can be a great opportunity to pause, reflect, and commit to new adventures with a fresh sense of purpose and direction, can't it?
New Year's Resolutions are great – but in addition to setting personal resolutions like running a marathon or reading more books, how about setting some great wellness-focused resolutions for your canine companion?
Here are our top three suggestions.
Manage your dog's weight in the New Year
Keep them trim
Over the festive season, your dog may gain weight, thanks to a potential abundance of tasty treats and pampering from friends and family, combined with less exercise than usual. Nonetheless, it's important to manage their nutrition and keep them trim – and to consult your vet for a diet and management plan if needed.
A large Royal Veterinary College survey conducted in 2021 found that 1 in 14 dogs in the UK were recorded by their vets as being overweight each year, with obesity carrying "severe welfare risks for dogs."
So, your first pet resolution this New Year should be to keep a close eye on your dog's weight. Here are a few of our top tips for looking after an overweight dog:
Seek veterinary advice on diet and exercise to suit your dog
Go on plenty of walks with your pup
Feed your dog a high-quality, nutritionally balanced diet
Make sure you're not giving them too many treats
Don't give your dog food that's meant for humans
How to help your skinny dog
Animal health professionals spend a lot of time talking about obesity in dogs – but what if your dog is too skinny? Being underweight comes with its own risks and complications. If you have any concerns, we recommend you:
Ask your vet to rule out any underlying medical problems
Make sure you're giving your dog the right portions of food according to their age, breed, size and activity level
Carefully increase the amount of food you give to your dog
Consider small, frequent feeds containing high-quality foods to tempt your dog to eat
Want to find out more? Check out our health guide on making sure your dog is the right weight.
Help your hound feel happier
Everyone loves feeling happy, and creating routines that support our happiness is one of the greatest gifts we can give ourselves. So, why not resolve to help your dog feel happier, too? Here's how you can help boost their mood throughout the year:
Stick to a schedule. Dogs love routine. Give them the gift of regular walks at regular times. Even though it's sometimes tricky to stick to an overall routine, your dog will likely be happier and more settled if you can take them out at the same time each day.
Keep exercise consistent. 'Little and often' is generally better for your dog than big, occasional outings. This kind of routine is gentler on their bodies and allows them to benefit more frequently from the mood-boosting effects of exercise.
Give them a comfy bed. This is especially important during the winter months. Make sure your dog has a cosy, comfortable place to rest and keep warm.
Organise a treasure hunt. Dogs have a highly advanced sense of smell, so let them utilise it! Keep them mentally stimulated with a hunt for their favourite toy.


Brush up on your dog's dental health
Dental health is a crucial part of your dog's overall wellbeing. According to Cornell University, 80-90% of dogs over the age of 3 experience sensitive gums.
Ideally, you should brush your dog's teeth every day or at least three times a week. This resolution will not only help to reduce the dreaded 'doggy breath', but it will also help protect your dog's general health. The best way to get your dog used to having their teeth brushed is to start doing it when they're a puppy.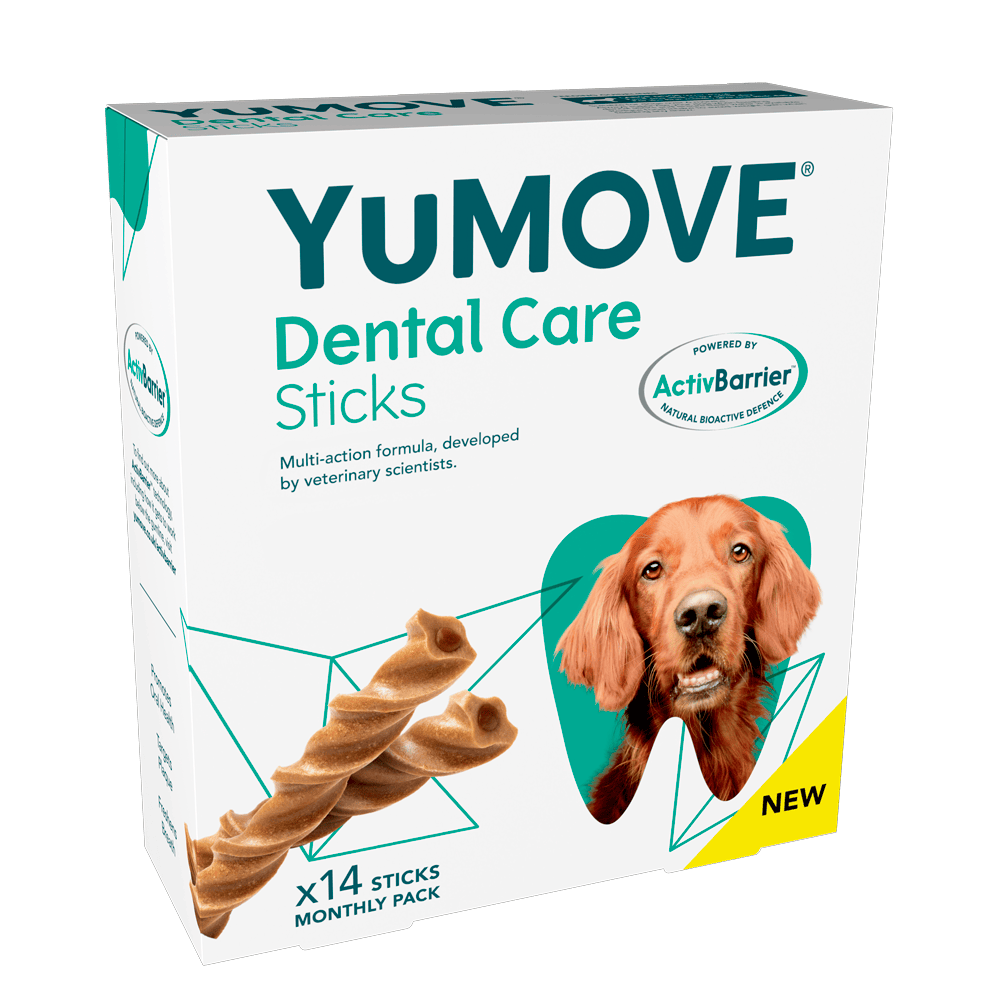 Dental Care Sticks
Innovative dental care regime developed by veterinary scientists

Suitable for dogs of any size or breed, from six months of age

Tasty dental sticks, made with natural ingredients
Find Out More
Our top tip: Never use human toothpaste – many contain Fluoride, which can be harmful to dogs. Some also include Xylitol, an artificial sweetener that can be toxic for our furry friends.
For more help managing your dog's overall oral health, consider YuMOVE Dental Care Sticks – developed by veterinary scientists to target plaque, freshen breath and help maintain healthy teeth and gums.