[UPDATED OCTOBER 2023]
As your dog ages, they become more likely to experience joint stiffness and to need extra care and attention to keep leading their best life.
While proper exercise frequency and intensity and good nutrition are essential to safeguard your dog's mobility, there are also environmental factors to take into consideration.
For example, existing joint stiffness can be exacerbated by the cold – which means that it's important to be extra attentive to your canine companion during the chillier months.
Read on to find out why the cold weather can worsen joint stiffness and how to keep your pup happy, healthy and active, even when it's chilly outside…
Why cold weather affects your dog's joints
Animal experts aren't 100% sure what causes increased discomfort when it's cold, but here are a few potential causes:
A drop in air pressure. This causes tissues in your dog's body to swell and can make movement more difficult.
Rigid muscles. Even in dogs who don't suffer from joint stiffness, the cold can cause muscles to become tense. For dogs with existing stiffness, this can be difficult to manage.
A lack of exercise. Freezing temperatures mean staying indoors, short walks – or no walks at all – and a lot of lounging around. But dogs with joint stiffness need movement to stretch and warm up their muscles, as this helps to reduce stiffness.
Exercising your dog when it's cold
Keeping your dog active is important for maintaining their joint health and mobility, throughout their life. Even if your canine companion seems stiff and unmotivated, gentle movement – such as a short, light walk – can do a lot of good. Moderate movement helps to engage and exercise joints, stretch and strengthen muscles, and keep your dog active and engaged in life.
Plus, dogs typically thrive on a stable routine. If your dog did a lot of exercise in the warm, summer months, then a reduced level of activity when it's cold is likely to lower their mood. Try to go on at least one walk per day. If you can, go at midday when it's warmer, rather than in the morning or evening, or follow an exercise plan developed with your vet.
If the weather is too harsh – think snow, strong winds or freezing temperatures – encourage your dog to play and move around at home. Or, if there are any in your local area, you could also book your dog into a dog hydrotherapy class. Swimming is one of the best exercises for stiff joints – in dogs and in humans. The water helps to support your dog's body, lowering the load on their joints and helping them to move more freely. What's more, swimming builds muscle strength, stimulates blood flow and can help to improve range of motion and flexibility.
Not sure if your local swimming pool does canine sessions? Talk to your vet. All canine hydrotherapists need veterinary approval, so your vet will likely know whether there are classes in the area.
Other ways to battle the cold
During the winter months, you'll probably notice that your senior dog seems stiffer than usual – this is especially true right after they wake up on those frosty mornings. Take a look at our handy guide for some tips on how to create a winter-specific plan for your pup. Or, keep reading to discover some of the best things you can do to battle the cold and improve your dog's mobility.
1. Get cosy
The cold temperatures can make it more difficult to move. That's why it's so important to warm up your dog by providing comfy and snug accessories – for instance, pet-safe heating pads and blankets. Place your dog's padded bed close to the radiators, a fireplace with safe fireguards in place, or any toasty spots in your home while they dream the night away. The extra warmth might encourage more movement, or at the very least will keep your dog cosy.
Clothing – such as waterproof jackets and coats – can also help to keep the joints warm. Smaller breeds and senior dogs are more likely need a little extra warmth when going on winter walkies. If you find that your dog's extra chilly after a walk, make sure to warm them up when you get home. Discover more must-dos for when you get home from a winter walk in our cold weather recovery tips.
2. Let them rest
Your dog probably won't want to do a huge amount of exercise if the cold temperatures are making their joints stiffer. That's why it's so important to give them enough time to relax.
In winter, it's even more vital that your dog has a comfortable, ergonomic bed to lie down on. We recommend choosing one that's specially designed to support stiff joints. Plus, you should make sure their bed is big enough for them to fully stretch out in. Placing a couple of beds around the house might also be beneficial if your dog likes to switch up their lounging location of choice throughout the day.
If your dog likes to snuggle on the sofa or on your bed, lifting them up is better for their stiff joints than letting them jump or clamber. The best solution might be a dog ramp or dog stairs to help your furry friend reach their favourite spots.
3. Give them some extra love
We all need a little extra care and attention when it's cold outside. And your dog is no different. A relaxing pamper can do your dog a world of good. Start your spa session with some relaxing music and a head-and-shoulder massage, before a gentle massage of their legs and toes. If your dog has any particular problem areas, however – such as the knees, elbows, or hips – keep in mind that any canine physiotherapy should be given only under the guidance of a registered professional.
4. Keep them trim
During the cold months – and especially during the festive season – people and their pets tend to move a little less and eat a little more. But did you know that overweight dogs are significantly more likely to experience joint stiffness? In addition to the extra weight placed on their joints with each step, excess fat can also increase inflammation and discomfort.
If you're unsure on how to stop your dog from packing on the pounds over winter, reach out to your vet. They'd be happy to help!
5. Try a supplement
If your dog isn't already taking joint supplements, winter might be the perfect time to start. Our YuMOVE range for dog joints is specially designed to help maintain their mobility, support overall joint health, and soothe stiffness.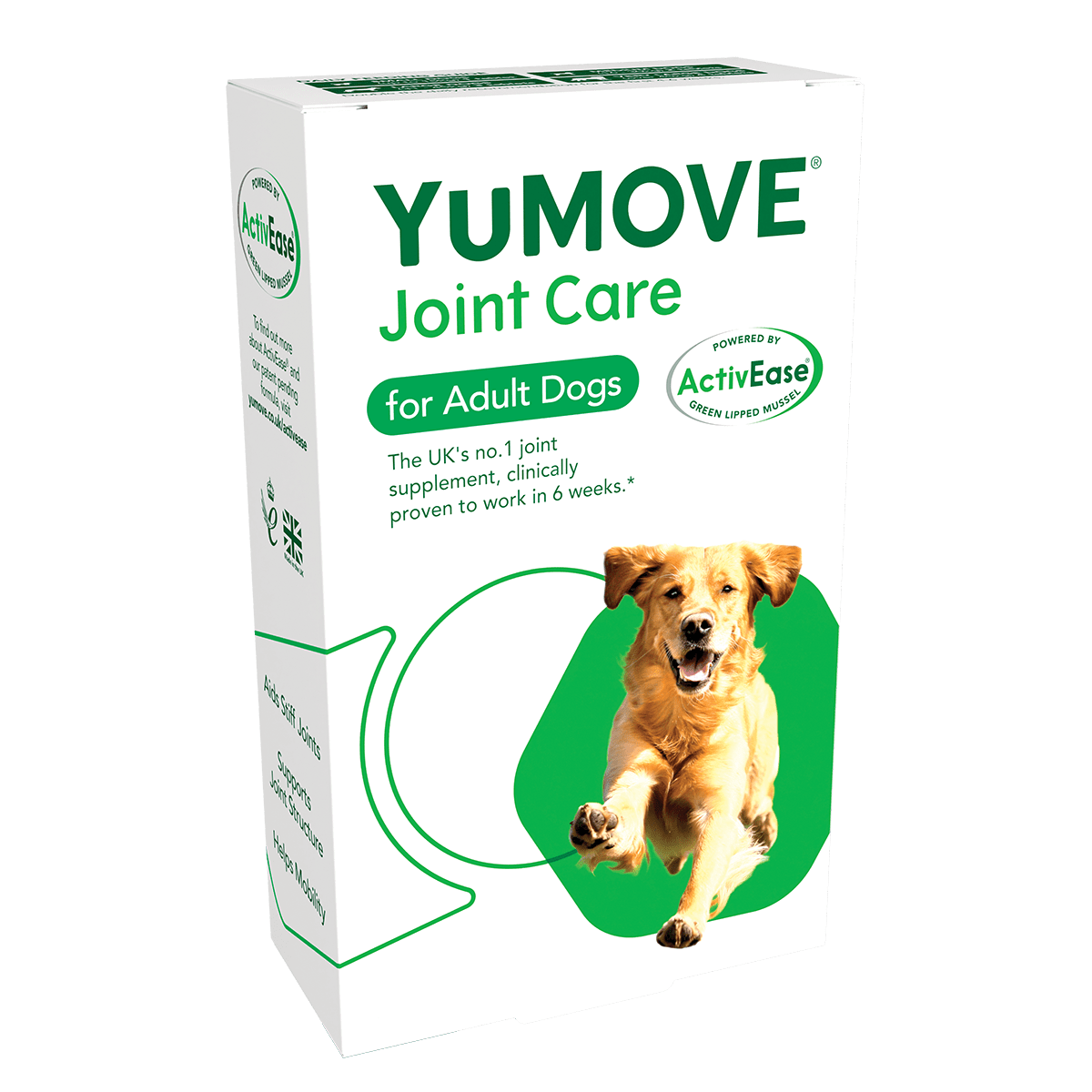 YuMOVE Joint Care for Adult Dogs
The UK's no.1 vet-recommended joint supplement brand*
Developed for adult dogs showing signs of occasional stiffness
See a difference in just 6 weeks or your money back*
Find Out More
YuMOVE helps your dog's joints
YuMOVE Joint Care has been clinically proven to work in just 6 weeks,* meaning our supplements really can help your dog to keep leading their most active life, for life.
Powered by our very own unique and sustainably sourced ActivEase® GLM – which has up to 8x the amount of Omega-3 and is up to 30x more powerful than other ordinary Green Lipped Mussel powder* – YuMOVE Joint Care a great addition to any pet's cold-weather mobility regimen.
We recommend taking the time to browse our Joint Care range, so you can find the best YuMOVE supplement to support your pet's best life.
YuMOVE Joint Care PLUS Max Strength has been developed with the needs of older and stiffer dogs in mind. Subscribe today and get 50% off your first two months with the code SAVENOW.**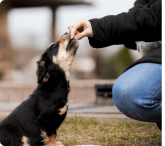 Get a recommendation
Answer a few simple questions about your dog and we'll pick the best products for them. It only takes a few minutes.