[UPDATED OCTOBER 2023]
Cats may have very specific feelings about how they should be treated on a day-to-day basis, and what they deserve out of life, but that doesn't mean they actually need a lot to be happy. If your feline companion has a cosy home, good food, some fun activities to keep them busy, and a soothing scratching post, odds are they're already living the dream.
As with us humans, though, our cats' needs change as they get older – and the kinds of cat trees and scratching posts that delight an energetic kitten might not be ideal for an older feline. Here are some cat scratching ideas for your older cat.
Why do cats scratch?
Cats don't scratch just as a casual expression of boredom or frustration. In fact, scratching is an important behaviour for cats to engage in – not only to satisfy their instincts, but also for the sake of their health and emotional wellbeing.
When you find your cat scratching your furniture – or, ideally, a properly designed scratching post – they're honing their claws and keeping them healthy, are stretching and working their muscles, are burning off excess energy, and may even be working through stress and unpleasant emotions.
In fact, cats also scratch as a natural way of marking their territory – both through the visual marks they leave on an object, and also through the scent they leave behind.
For all these reasons, cats at every stage of life need something to scratch.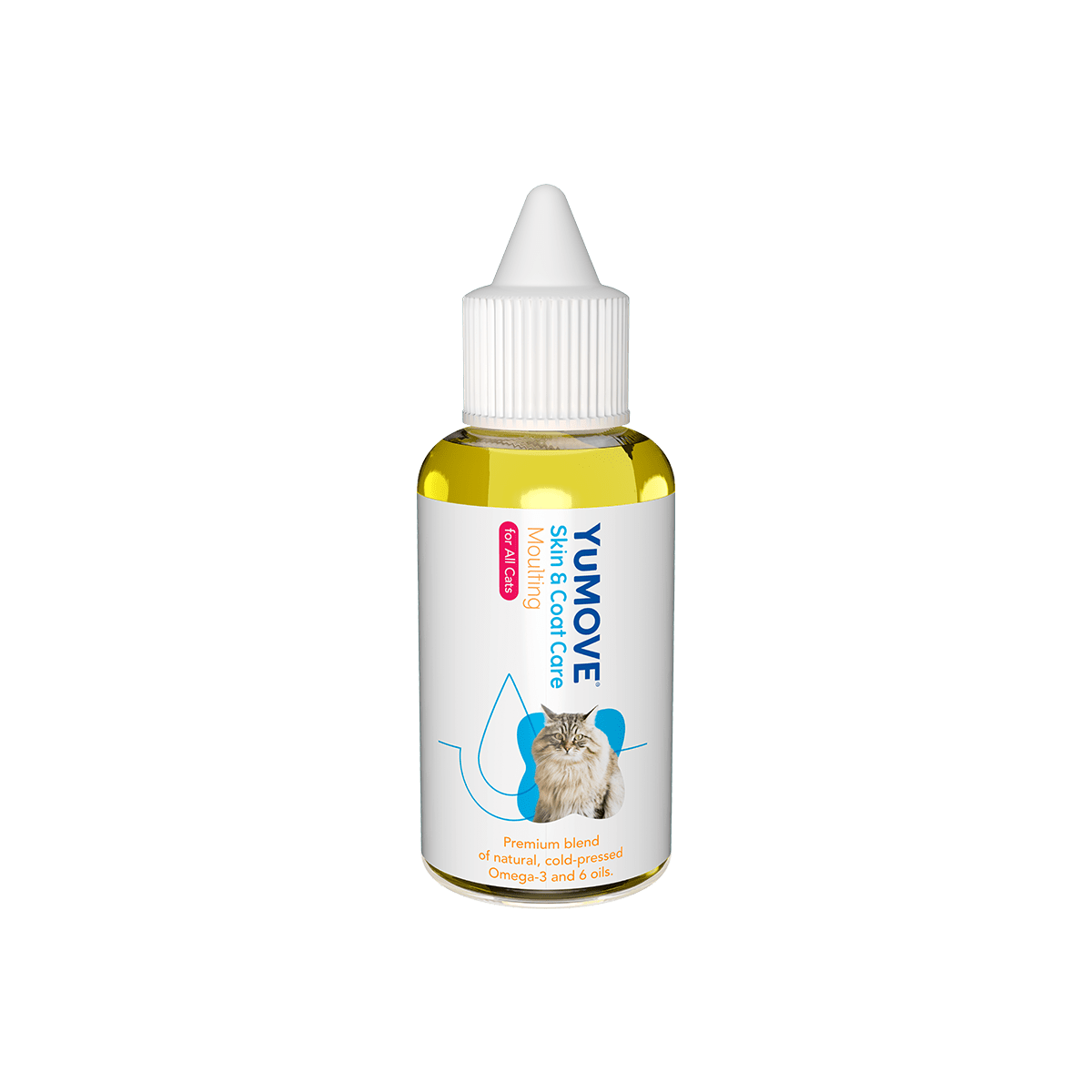 Skin & Coat Care for Cats
Essential Omega oils for your cat's skin and coat
Reduces excess moulting
Supports your cat's skin and coat condition
See product
Good cat scratching props for senior cats
Here's a look at a handful of scratch-friendly accessories that might be a good match for the older feline in your life.
The Somers Scratch and Slide Cat Post offers a fun, wave-shaped platform that gives cats the opportunity to either enjoy a bit of elevation, or to lounge around and relax as the mood takes them. For older cats in particular, the gentle, accessible slope and low elevation of this accessory helps reduce the risk of strain.
Finally, the Somers Scratch and Slide Cat Post is coated in tough sisal, for a satisfying and hard-wearing scratching experience.
Cats, as a rule, love elevation. Being in a high place suits a cat's predator instincts, as it gives them a great view of their surroundings, while putting them out of reach of potential threats. For older cats, though, getting up to those lofty perches may not be as easy as it once was.
The Trixie Emil Senior Cat Scratching Post has been specially designed for older cats, and features comfortably spaced 'steps' that allow your cat to get up and down smoothly and comfortably. The top of the platform features a cosy cat bed for relaxation, while the base has snug 'cave' to serve as your cat's personal den.
This appealing scratching post also includes sisal-coated pillars and a ground-level scratching platform, as well as a pair of fluffy hanging baubles to keep your cat entertained.
PawHut's Pet Steps can be a great accessory for older cats, serving both as a fun prop and as an aid to make other platforms more accessible.
These comfortable steps are covered with warm and soft faux fur, while the supporting legs are wrapped with sisal rope to allow for a good scratch. Whether your cat just wants to sink their claws into something, feels like enjoying a bit of easy elevation, or wants a smooth path onto the sofa, these steps can get the job done.
Older cats may not always find it comfortable to reach up and scratch against a post. If that's the case for your cat, the pecute Cat Scratching Pad may be just the thing. With one side of this curved scratcher being covered in sisal to allow for a great 'ground-level' scratch, and with the other side being covered in carpet to allow for a cosy nap, this is a surprisingly versatile and portable accessory.
Whoever said that cats shouldn't be able to combine a lounging session with a satisfying scratch, and maybe even a bit of catnip? Not the people at Petstages, that's for sure.
The Petstages Easy Life Hammock provides a cosy lounging platform at a slight elevation, made of corrugated cardboard for a scratch-friendly surface that mimics the feel of bark. Catnip is included as a treat to keep discerning kitties engaged and motivated.
Could your older cat use some extra support? We've got you covered
At YuMOVE, we're strong believers in providing well-rounded support to help every pet thrive and live their best and most active life, at every stage of life.
So why not try out our excellent range of cat wellness products? Our triple-action YuMOVE Joint Care for Cats could give your feline friend the extra joint support they need as they age, while YuMOVE Calming Care for Cats can help soothe stressed kitties of all stripes, and YuMOVE Skin & Coat Care Moulting for Cats can help keep them looking as fabulous as they already know they are.
Looking for more ways to treat your senior cat? Check out our 8 gifts for your senior cat blog for inspiration, and consider our range of feline-focused products to really put a 'Cheshire Cat Grin' on their face.