Even though your cat might have slowed down in their old age, that doesn't mean they don't still love new playthings. As the saying goes, there's life in the old cat yet.
You might think it's difficult to choose a gift for your elderly cat. But at YuMOVE, we're here to help. That's why we've made a list – and checked it twice! Bring out your senior cat's inner kitten with festive toys, supplements and everyday cat essentials. Read on for our ultimate gift guide…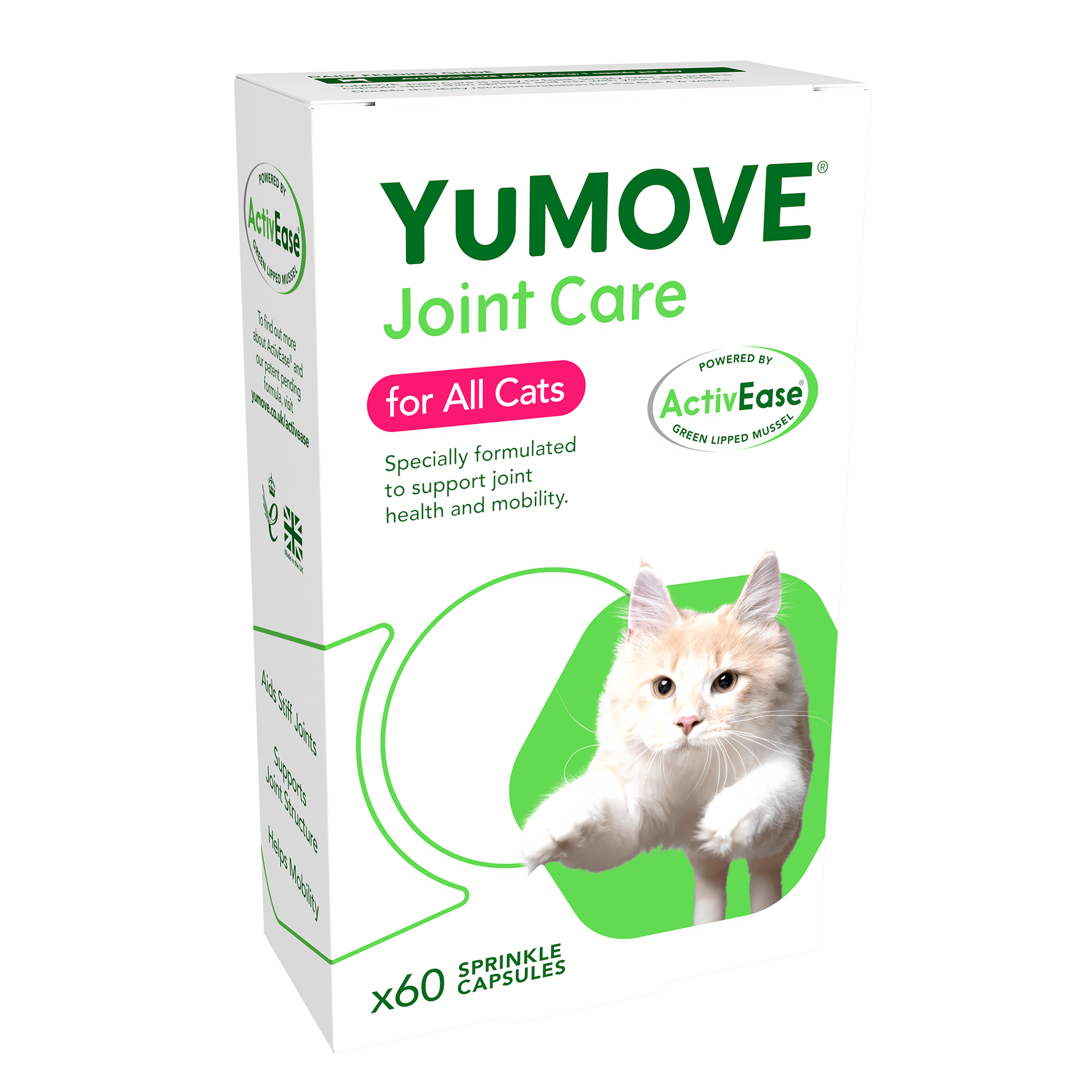 Joint Care for Cats
Triple-action formula soothes stiff joints, supports joint structure and mobility
The UK's no.1 vet-recommended joint supplement brand*
See product
What age does your cat become senior?
As veterinary care improves, the lifespan of a cat is much longer than it was in the past. In fact, almost half (43%) of the UK's cats are considered 'old'. And nowadays it's not unusual for cats to live to the ripe old age of 20!
Many cat experts consider cats to be elderly from the age of seven. Although, some cats will stay youthful well into their golden years. Each individual cat is different, and there's no exact age when your cat becomes senior. That's why it's so important to look out for the signs of ageing in your cat:
Loss of movement
Changes to their playtime routine
Sleeping more
Joint stiffness
Weight fluctuations and a change in appetite
Loss of vision or hearing
A reduction in grooming
You may also notice some behavioural changes, such as unusual aggression, excessive meowing, confusion and forgetfulness. They're also likely to be prone to toilet accidents, might have an increased dependence on you, or may be less able to cope with stress.
1. Raised food and water bowls 
Caring for an older cat means making sure they're eating and drinking enough. Raised food and water bowls allow your cat to do so at a comfortable level. This is especially important if your cat has achy and stiff joints, as your cat may struggle to bend down to eat or drink.
Raised food and water bowls aren't just for elderly cats, though. Many cats suffer from whisker fatigue – which is essentially just overly sensitive whiskers. When their bowl is too low, your cat's whiskers are more likely to press against the edges.
2. Grooming tools for your older cat 
Senior cats are typically less flexible than their kitten counterparts. And because of this, they can struggle to take care of their coat. This results in bad smells, matted hair and stress. Give your cat the gift of a shiny coat this Christmas with a new grooming brush or comb.
Help them stay fresh with regular brushing sessions, keeping an eye out for matted areas, and wiping away discharge around the eyes and nose. Regular, gentle grooming also allows you to check your cat carefully for any lumps or bumps. It's also a great bonding exercise for you both!
3. Home gifts 
We all love a little homeware gift at Christmas. And your cat is sure to appreciate them, too. Did you know that even a couple of small changes in your home can make all the difference to your senior cat? Here's a quick rundown on some homely gifts to help your ageing feline: 
Steps or ramps – help reduce the amount your cat jumps and climbs, easing the strain on their joints
Non-slip mats and rugs – to prevent your cat sliding on slippery floors (like hardwood, tiles and laminate)
Want some additional info? Discover our comprehensive guide on how to adapt your home for a senior cat.
4. Supplements 
At YuMOVE, we're dedicated to helping cats live a healthy and active life, for life. That's why we've created various all-natural supplements to aid your senior cat:
YuMOVE Joint Care for Cats is enriched with ultra-high-quality and clinically proven ingredients to help support your senior cat's stiff joints. It aids comfort, supports joint structure and promotes mobility.
YuMOVE Skin & Coat Care Moulting Cat is ideal if your older cat is struggling to keep up with their natural grooming routine. This supplement contains the perfect balance of Omega-3 and Omega-6 oils to restore your cat's coat to their natural beauty.
YuMOVE Calming Care for Cats helps to promote calmness and happiness, which is especially important if your cat has become shy or anxious in their old age.
5. Tall trees 
Just because your feline friend is maturing, it doesn't mean that they've given up on being adventurous! Lots of elderly cats still love perching in high places, especially on cat trees. It might just be the case that they struggle to climb as well as they did when they were young.
This natural behaviour should be encouraged as much as possible, as it's a normal part of being a cat. And not climbing can cause your cat to become stressed. Help them reach their favourite spots by placing stepping stools nearby – think ramps or other pieces of furniture.
If your cat used to love going outdoors, but is now spending more time inside, place a perch near the window so they can still enjoy watching the world go by. The soaring birds outside will keep your older cats' mind stimulated – to them it's almost the same as being on a hunt!
6. Toys for older cats 
Most elderly cats love playing as much as they did when they were kittens – you may just find that their playtime is shorter and less frequent. Find out how much exercise your cat needs.
Try not to play with toys that might startle them – for instance, anything that suddenly lights up or pops out. If you're looking for a comprehensive guide on how to play with your older cat, why not check out this guide? In the meantime, here are a few favourites your grey-haired feline is still sure to love:
Wands and fishing rod toys. Play slow and gently with these so your cat doesn't get worn out too quickly.
Food puzzles. These challenge your cat's mind. What's more, your kitty's rewarded with a special treat at the end.
Kick toys. They're ideal for older cats, as they can just lie on their side and release any pent-up energy. Plus, it gets their stiff legs moving!
Lasers. Unlike your cat, lasers never get old. Opt for a handheld laser instead of an automated one so you can control how fast it moves.
Cardboard boxes. All cats love boxes, no matter their age. We recommend placing a box on its side, so your cat doesn't have to strain their joints when playing in it.
The benefits of playing with your older cat
Playing with your senior cat has numerous benefits, such as:
Keeping their weight in check
Mentally stimulating them and reducing stress
Working as a distraction if your cat has stiff joints or is feeling poorly
Your cat may seem unenthusiastic about play, but keep trying until something catches their eye. Even if your cat is just watching instead of catching, this is still great for mental stimulation – and it also tires them out physically.
If your senior cat has any health issues, it's worth asking your vet what kind of play they would recommend.
7. Treats 
Older cats sometimes struggle when chomping on treats that they previously enjoyed in their younger years. Most treats are too hard or chewy for them, and they often aren't filled with the right nutrients that senior cats need. When picking out treats for your ageing cat, try to make sure they tick the below boxes:
Easy to eat. Your cat will have little to no trouble with pureed treats or yoghurt-based ones.
Contains prebiotics. Prebiotics help with your senior cat's digestion and help to support their kidneys. 
Is filled with the right nutrients and vitamins. Try to make sure you're picking ones that contain B Vitamins, Vitamin E and Potassium.
Higher protein levels. Protein helps older cats maintain body weight.
8. Litter trays 
Although not the most exciting gift, a decent litter tray can make all the difference to your elderly cat. It can also help reduce the number of accidents they have as they grow older. When picking out a litter tray, remember these tips:
Choose one that's large enough for your cat to move around in. The bigger the better.
It should have low sides and be in an easily accessible location so your senior cat can safely climb in and out of it
Provide several litter trays around your home
Generally, cats prefer their litter trays to be kept away from their food and water. But if your older cat struggles to move around too much, keeping it close by will be preferable.
If your older cat prefers to toilet outside, you should try going out with them. Some older cats get nervous being outside by themselves – especially if there are other cats in the neighbourhood.
The importance of routine
Cats love a routine. If your cat has lived with you for a long time, you probably already know this. But as they get older, they appreciate familiarity even more. Serve them meals at the same time each day, keep things calm around your home, and avoid chopping and changing your furniture. A familiar home environment is easier to navigate!
Want to find out more about caring for your cat? Take a look at our article on spotting the signs of stiffness in your cat.