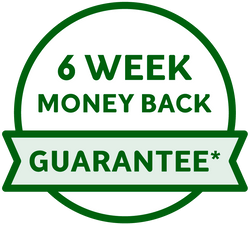 Single Purchase

£2.38 per Sachet

Regular price

Sale price

£14.29

Unit price

per

Free UK Delivery (estimated 3-5 days)
Monthly Plan

£1.67 per Sachet

Copied!

The discount code was copied to your clipboard.

Free UK Delivery (estimated 3-5 days)

Free delivery

Edit, skip or cancel anytime

24/7 online vet advice worth up to £100/year

See the difference in 6 weeks or your money back*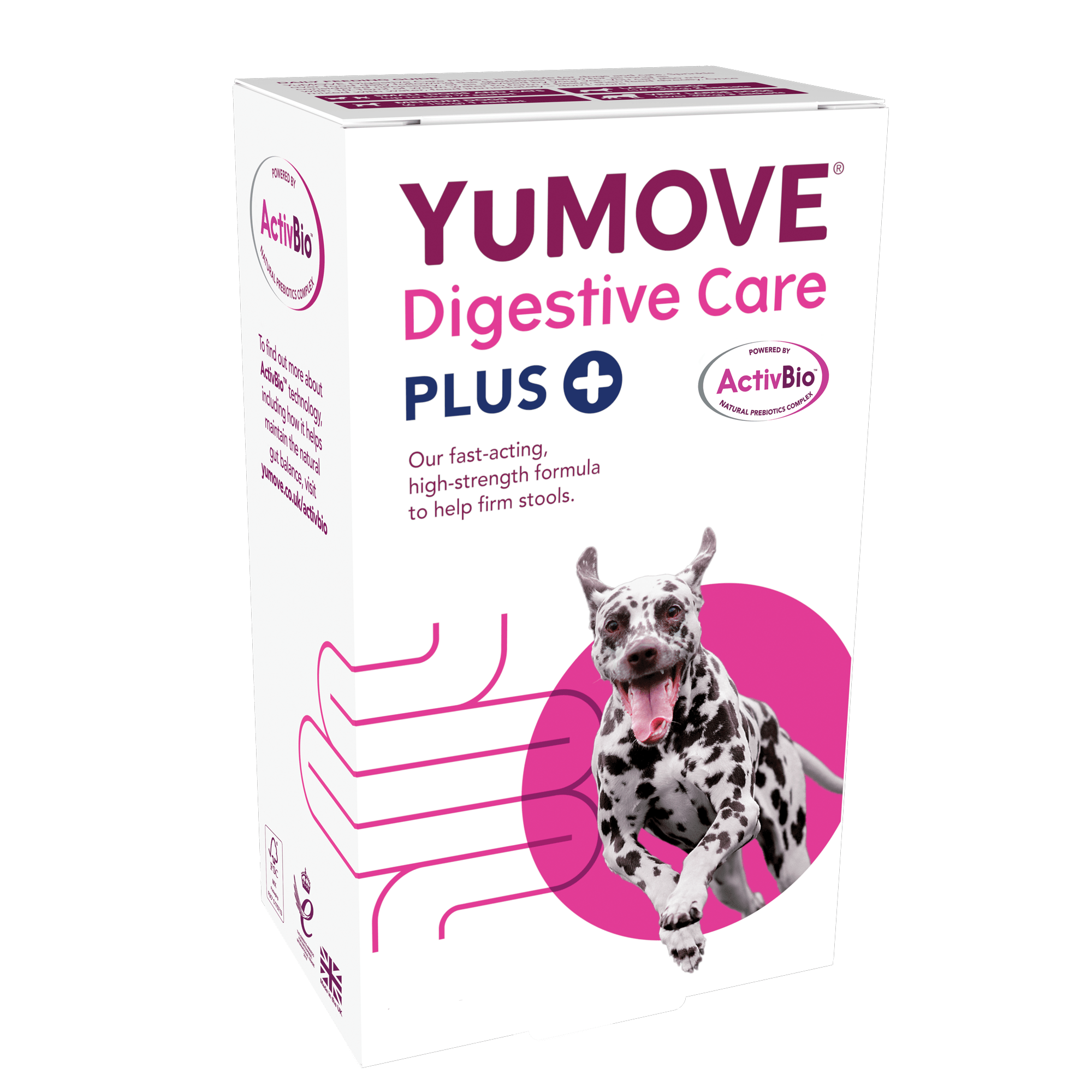 Helps maintain the natural gut balance

Binds bad bacteria & toxins

Protects gut lining
Fast-acting, gentle and effective digestive support for cats and dogs
Suitable for cats and dogs of any size or breed, from age 3 months and over
It helps firm stools, and encourages healthy digestion
Feeding Guidelines
YuMOVE Digestive Care Plus For Dogs & Cats
Monthly Plan
£14.29
£10.00
/

£2.38 per sachet
/

£1.67 per Sachet
View full details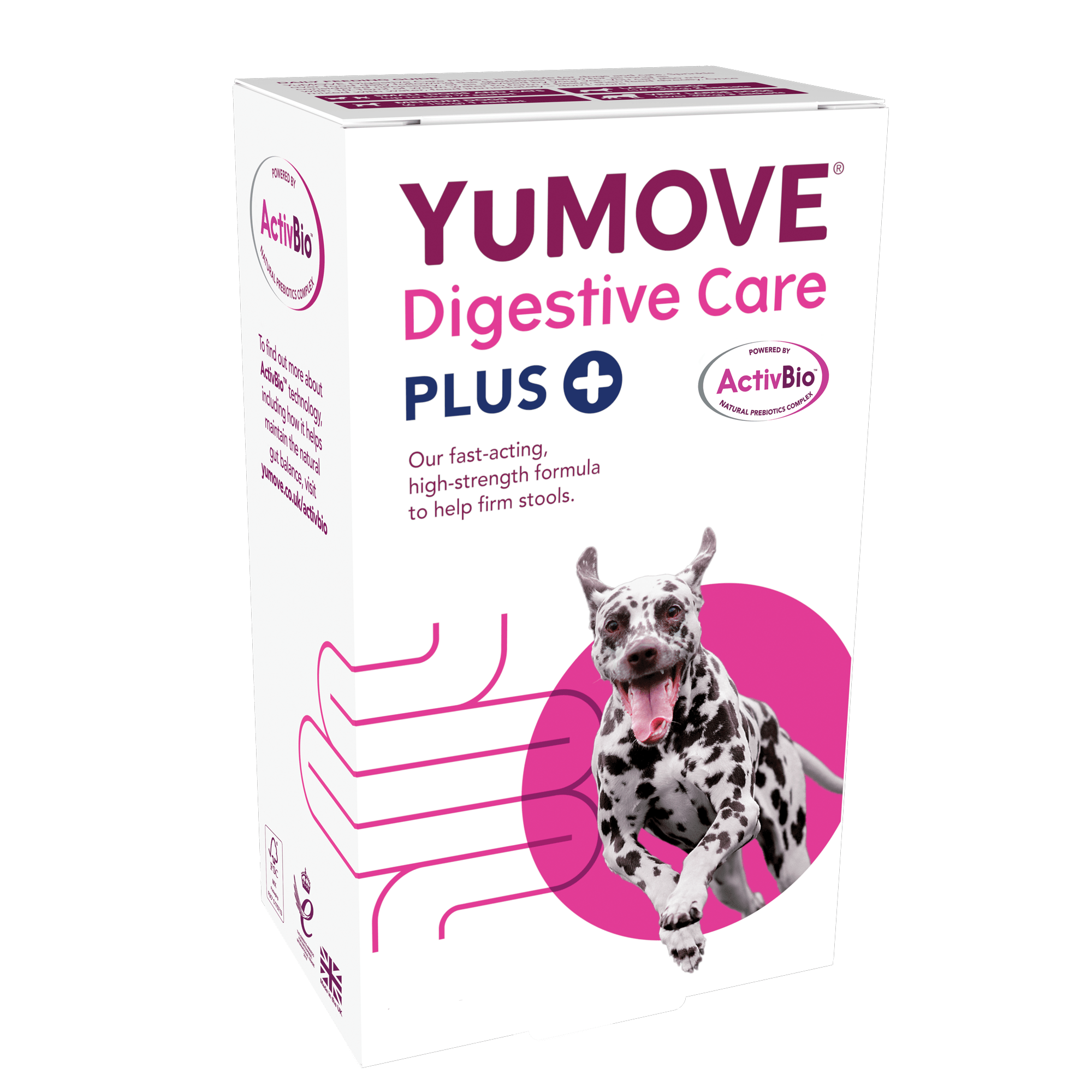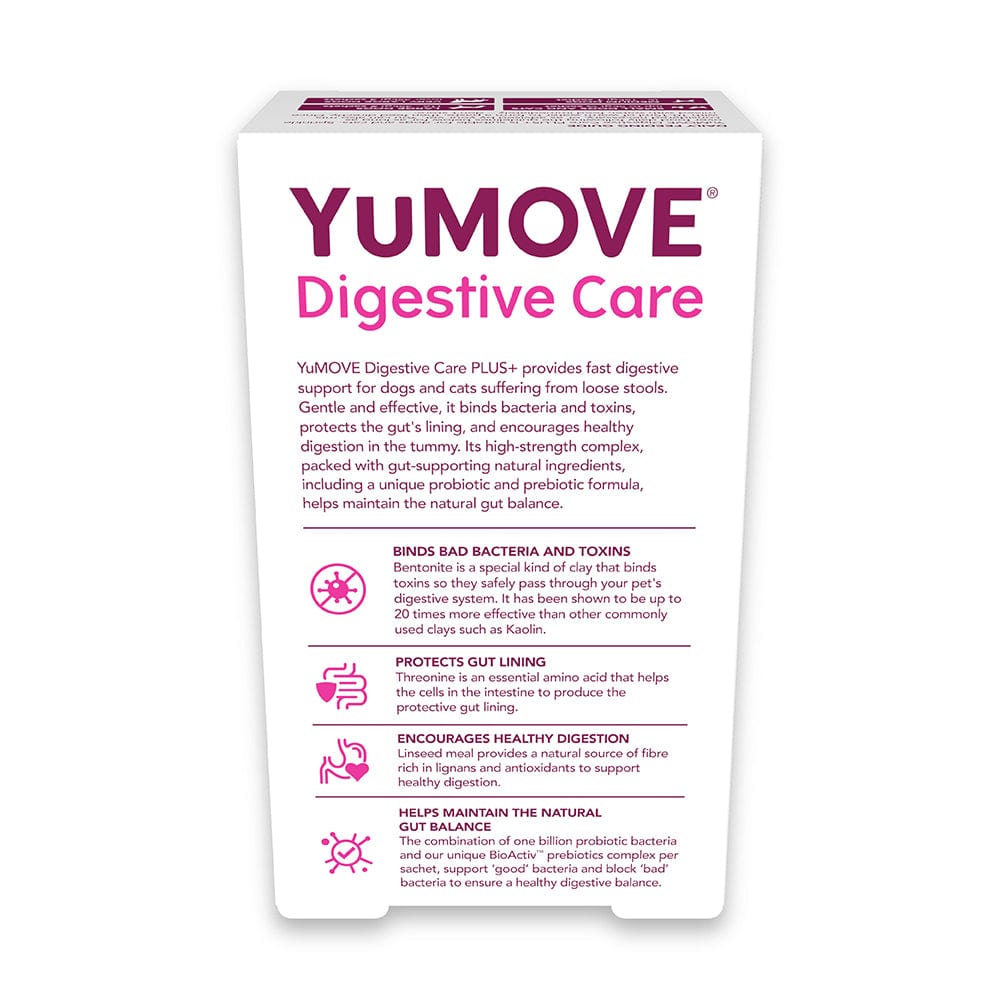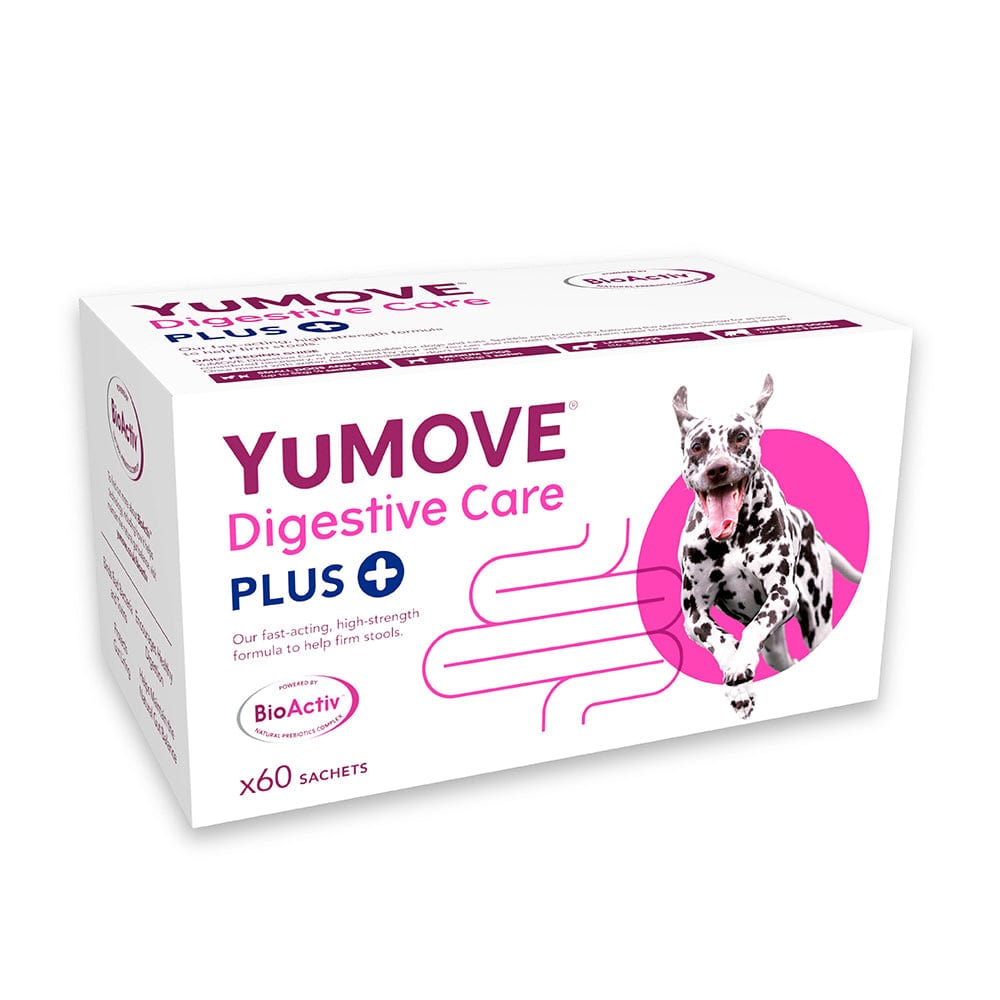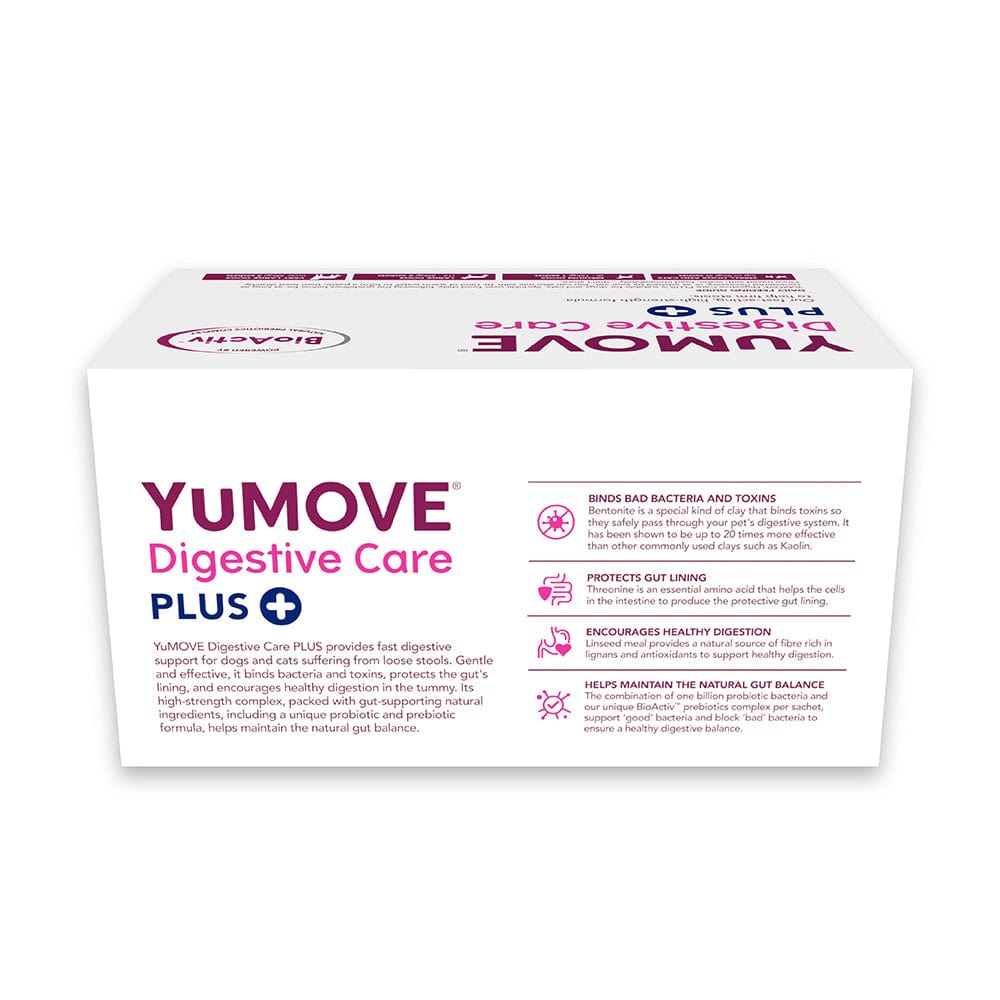 Feeding Guidelines
| | |
| --- | --- |
| Pet size | Small (up to 6kg) |
| Daily Amount | ½ sachet |
| Pet size | Medium (6-15kg) |
| Daily Amount | 1 sachet |
| Pet size | Large (16-35kg) |
| Daily Amount | 2 sachet |
| Pet size | Extra Large (over 35kg) |
| Daily Amount | 3 sachet |
Pet size
Daily Amount
Small (up to 6kg)
½ sachet
Medium (6-15kg)
1 sachet
Large (16-35kg)
2 sachet
Extra Large (over 35kg)
3 sachet
YuMOVE Digestive Care Plus For Dogs & Cats
3 prebiotics and 1 billion probiotic
Our unique blend of 3 different scientifically proven prebiotics and 1 billion probiotic bacteria per sachet support 'good' bacteria, and block 'bad' bacteria to 'ensure a healthy digestive balance.
Bentonite
A special kind of clay that binds toxins so they safely pass through your dog's digestive system.
Threonine
An essential amino acid that helps the cells in the intestine to produce the protective gut lining.
Linseed meal
Provides a natural source of fibre rich in lignans and antioxidants to support healthy digestion.
Listed Ingredients
COMPOSITION Linseed Meal (39.8%), Fructo-oligosaccharides (20%), Yeast Extract (source of manno-oligo- saccharides) (20%), Beta-glucans (2.5%), Yeast Products, Maize Gluten Feed, Dried Algae (Chlorella vulgaris).*Natural. ADDITIVES Zootechnical Additive: Enterococcus faecium DSM 10663/ NCIMB 10415 E1707: 2 x 1011 CFU/kg; 1 x 109 CFU/ sachet. Nutritional Additive: L-threonine 40g/kg; 200mg/sachet. Technological Additive: Bentonite 100g/kg; 500mg/sachet. *If your dog suffers from any allergies, please reach out to our customer care team for specific advice
Helps maintain the natural gut balance
Binds bad bacteria & toxins
How quick is your delivery?
Are there any allergy concerns?
Can your products be used with prescription only medicines?
Are there any discounts available?
Do you offer money back guarantee?